LED Fiber UV Curing System - OmniCure® AC9225-F
Featured Product from Excelitas Technologies Corp.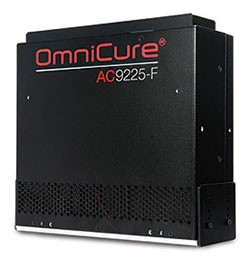 The OmniCure® AC9225-F UV LED curing system is customized for fiber curing applications and features advanced front-end optics to optimize the cure area, providing high power, high peak irradiance and exceptional uniformity at long working distances.
The system is customized for coating processes for cable, wire and optical fibers, and features a 10-15mm focal distance from the protective window. With its high output and efficiency, OmniCure AC9225-F minimizes power consumption and offers up to 50% energy savings compared with traditional arc lamp systems, with no compromises in inline speed.
Featuring a replaceable outer window assembly for added protection and ease of maintenance, the AC9225-F boasts over 40,000 hours of LED lifetime. These UV LED heads can be easily integrated into production lines and can be adjoined to further improve productivity and production speeds.
OmniCure AC Series offers solutions for your complete fiber manufacturing UV needs in coating, coloring, ribbon and printing applications.
Click Here for specifications, user guide, white papers, to find a distributor, or contact us