SmartBlue™ Digital Linescan Cameras
Featured Product from Excelitas Technologies Corp.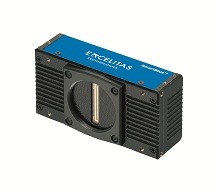 The SmartBlue™ digital linescan cameras incorporate the latest in photodiode array technology based on the industry standard Reticon® devices with state of the art electronics and a robust industrial camera housing. The linescan photodiode array is a Pinned Photodiode Charge Couple Device which allows for high sensitivity, fast readout, while maintaining high dynamic range, and low image lag.
The New SmartBlue™ cameras are cost effective high performance digital linescan cameras, and feature a CameraLink™ digital interface. These cameras feature geometrically precise photodiode CCD image sensor with 14 um square pixels with a resolution of 2048 pixels. This "next generation" array can achieve data rates up to 80 MHz with superior noise immunity, precise linearity, and high CTE.
Learn More
The SmartBlue™ digital cameras are designed for high line rate applications with low to moderate light conditions and where small size, and low cost are required.
The two-point Flat Field pixel correction circuits give the user the flexibility of correcting video data to compensate for non-uniformities in lighting, lens, or CCD sensor variations. Adjustable gain and offset controls allow users to compensate for variations in illumination found in the "real-world" applications.
The robust design in conjunction with Excelitas' ultra modern manufacturing techniques allows the SmartBlue™ camera to deliver consistent, reliable performance while the rugged industrial design metal housing provides the maximum protection in a variety of harsh environments and factory floor conditions.