X-Ray Photodiode Array
Product Announcement from Excelitas Technologies Corp.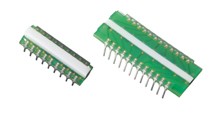 These photodiode arrays are used to generate an X-ray image by scanning an object line by line. The X-rays are converted into light through the attached scintillator crystal. The light intensity is then measured by the photodiodes. The boards are employing chip-on-board technology with optically adapted scintillator crystals. The listed designs can be ordered as a standard part, but can also be customized to meet the needs of a wide variety of applications.
Excelitas custom photodiode arrays give customers the option to choose the:
active photodiode area
total number of elements
overall PCB and photodiode chip dimensions
photodiode chip geometry and orientation
electro-optical specifications
single sided vs. double sided PCB
alternative substrate materials (e.g. ceramic)
electrical interface (e.g. connector)
First stage amplification electronics can also be added to the custom board design to convert the current generated by the photodiode into an easy to measure voltage.
---