Exertherm Predictive Maintenance
Product Announcement from Exergen Corp.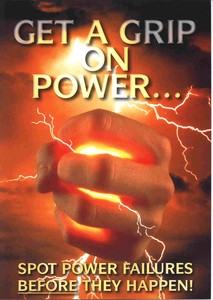 Another major limitation with traditional thermal scanning is that no IR device can 'see through' solid objects, all they can do is measure the external surface of a panel, components which are not adjacent to an external surface can never be measured accurately and some not at all.
Exertherm™ is a different form of IR inspection. Small, low cost, accurate, non-contact, infrared sensors are permanently fitted where they can directly monitor key components e.g motors, pumps, drive bearings, gearboxes, generators, and even inside enclosures monitoring high and low voltage switchgear. They monitor 24/7 and miss nothing.These sensors which require no external power measure the target temperature in relation to ambient with the signal indicating the °C rise on ambient, so avoiding inaccuracies due to weather conditions, environment etc. The sensors feed back signals to a PC where automatic data logging provides instant on-screen trend graphs. Two alarm levels per sensor automatically activate in the event that preset levels are exceeded, thus identifying problem component and allowing planned maintenance to be carried out.
The system can be connected to over 250 building management systems and fitted to new projects, retro- fitted and easily expanded. New developments include data transfer via ethernet, internet, cell phone, using GPRS technology for machine-to-machine (M2M) communication. Data can be transferred from various sites to central monitoring unit even from un-manned locations
---