Low Profile Underdrains for Longer Lateral Designs
Product Announcement from F.B. Leopold, a Xylem brand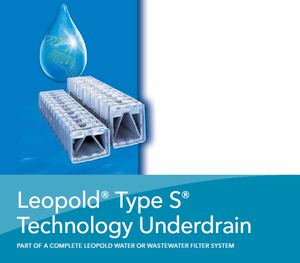 Improved Underdrain Performance for Superior Results
Because the upward flow of air through an underdrain creates low-pressure zones in the underdrain, some orifices can become starved for flow . . . or even reverse flow.
Leopold has designed a water recovery channel into its Type S® Technology Underdrain to help ensure uniform and continuous airflow from all of the top deck orifices.
The water recovery channel is designed to allow water to re-enter the underdrain to equalize the low-pressure areas. This dramatically improves the performance of the underdrain and provides superior results, particularly with the dual lateral design.
The results of Type S technology are real:
• Broader airflow range, now 1 to 5 scfm/sf.
•Improved air stability under all operating conditions with all orifices providing uniform and continuous airflow.
•Lower water maldistribution — less than 5 percent (total).
Cleans the Media Better
All Leopold Type S Technology Underdrains feature closely spaced, non-clogging orifices for uniform distribution of air and/or water backwash. This does more than promote trouble-free operation. It cleans the media better.
With other underdrain designs whose orifices are more widely spaced, dead zones can occur. This means the air does not reach and scour the media. The closely spaced orifices of Leopold Type S Technology Underdrain prevent the formation of dead spaces. As a result, all the media is exposed to the cleaning action of the air with Type S Technology Underdrain.
Read more - download brochure.
---