Thermal Imaging For The Petrochemical Industry
Product Announcement from FLIR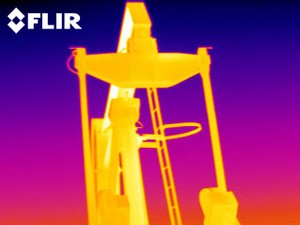 In refineries and other petrochemical facilities, equipment failure can lead to lost profits and even potential injury. What you can't see definitely can hurt you. Fortunately, there are FLIR infrared cameras to help.
FLIR's award-winning infrared cameras help you detect problems before they become catastrophic. FLIR IR cameras meet and exceed the most stringent monitoring and inspection requirements and have been proven for over two decades by petroleum refining and petrochemical professionals. They help not only with the difficult diagnostic challenges but also with day-to-day predictive maintenance operations. Using FLIR infrared cameras, you can inspect electrical and mechanical components-as well as high-temperature piping, heaters, storage vessels, and heat exchangers.
FLIR offers ThermaCAM handheld and ThermoVision mounted models to meet any inspection need. With a wide range of lenses, and unique performance and safety-enhancing options, these cameras make jobs such as process monitoring, and maintenance easier, safer, and more reliable.
FLIR cameras are plug-and-play for easy installation, and are ideal for 24/7 remote monitoring of critical plant assets over a private network or the Internet.
To learn more about FLIR ThermaCAM and ThermoVision infrared cameras, please see the materials listed at the right of the previous page. To discuss your specific application requirements, contact a FLIR infrared applications specialist by phone at 800-464-6372 or by e-mail to: IR Applications Specialist. Welcome to the FLIR infrared family of products - the world's most refined infrared cameras for refinery maintenance and operation!
Download 12 Things to Know Before Buying an Infrared Camera
Download The Ultimate IR Handbook for R&D Professionals
Download the new Flir IR Automation Guidebook
Click here to learn more about the Infrared Training Center (ITC), the premier educational and training resource for infrared camera application professionals.
To find out more about FLIR and to order, visit www.flir.com/thermography/ request a quote today.
---