Abrasion-resistant Ceramic Feeder
Product Announcement from FLSmidth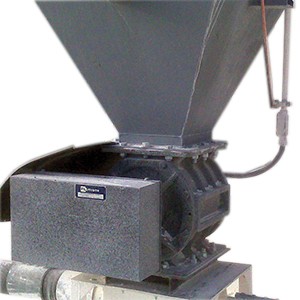 The exceptional abrasion resistance is due to our 2.54mm (0.100 inch) thick ceramic-coated bore, tungsten carbide rotor vane and shroud tips, and the tungsten carbide throat protection.
Additional design features include:
Cast body and end plates
Heavy-duty 8-vane, closed-end rotor
Air purged seals
Air gap between seals and bearings
Outboard sealed ball bearings
Up to 175°C (350°F) operating temperature
Capable of up to 15 psi differential pressure operation
FLSmidth's heavy-duty rotary valve can handle abrasive materials in both pressure and vacuum pneumatic conveying systems. The valve can feed material at up to 0.26 cubic meters (9.1 cubic feet) per revolution, handle differential pressures up to 15 psi, and operate in temperatures up to 175°C (350°F).
This abrasion-resistant rotary valve has superior hard surfaces of ceramic tile and tungsten carbide which ensure long operating life. Rotary valves are available in capacity ranges to meet most plant requirements for vacuum, pressure and general purpose applications
FLSmidth's ceramic-lined feeder provides exceptional abrasion-resistance on materials such as:
Alumina
Cement
Coal
Coke
Copper concentrate
Calcium carbonate
Diatomaceous earth
Feldspar
Fly ash
Gold ore
Kaolin clay
Lignite
Raw limestone
Rutile ore
Sand
and much more
---