BC™ Compressor intake filters
Product Announcement from FLSmidth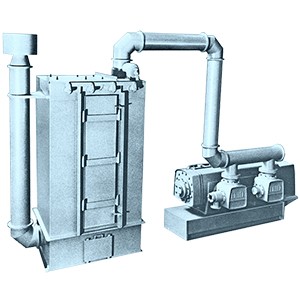 FLSmidth's BC™ Compressor Intake Filter unit is a single compartment multi-bag collector for inlet capacities up to 12,000 CFM (340 cmm) at ambient temperatures. Compressor filter sizes have a maximum air-to-cloth ratio of 10.0 to 1.
With its unique design, our filter provides maximum exposure to the incoming airstream. The result is a high degree of airborne particulate capturing capacity, with an absolute minimum of maintenance. Dust particles smaller than 1/4 micron are trapped and held to provide super-clean air. Several compressors may be connected to a single high volume BC Filter.
Our three-in-one multi-bags are made of heavy woven spun polyester for long life.
Smaller BC Filters are operated by manual shakers and are fabricated of fourteen (14) gauge carbon steel. The dust discharges into an enclosed box.
Larger models have shaker motor drives with heavy duty shaking mechanisms and are made of twelve (12) gauge carbon steel. These BC Filters discharge using a pyramid hopper with a 7" (175 mm) square cast iron slide gate.
The largest models include formed steel supports providing a four foot clearance between discharge opening and floor.
A gauge is included to indicate pressure differential across the filter.
Unit is shipped pre-assembled. Simple, easy-to-install instructions are provided with each package. Customer supplies for intake and clean air piping to the compressor.
---