Reliable screw pump for intermittent-duty
Product Announcement from FLSmidth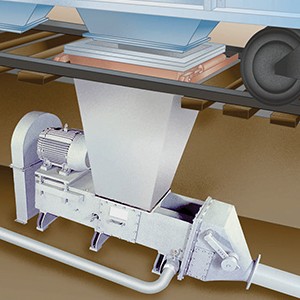 These pumps are ideally suited for intermittent operating applications with a limit of 20 psig conveying line pressure for the Kompact™ II pump and 12 psig conveying line pressure for the 61V Kompact™ pump.
Various mechanical or manual loading and distribution methods can easily be replaced with this totally enclosed, dust-free pneumatic conveying system.
Thanks to a low silhouette and short profile, the pump is ideally suited for hopper-bottom car unloading. Fuller-Kinyon® Kompact™ pumps require only a low-pressure, low-velocity air supply to efficiently meet its large throughput capacity.
The Fuller-Kinyon® Kompact™ II pump incorporates the latest design features of the Fuller-Kinyon® line of pumps. Its two-piece screw design reduces maintenance and provides greater stability during operation.
Newest pump technology
Totally fabricated steel design
Increased capacities - up to 1000 m³/hour (3300 ft³ /hour)
Reduced pump footprint
Lighter weight
Fewer parts
Low pressure operation
Ideal for rail car unloading
Reduced replacement part cost
The Fuller-Kinyon® Kompact™ II Pump is steel fabricated, consisting of a hopper leading into a barrel section. Material enters the pump from a bin or hopper-bottom car outlet. The material is advanced into the barrel section by an impeller screw, and is compacted by the decreasing pitch of the screw flights. The material is then fluidized by air introduced from a low-pressure positive displacement blower, and travels throughout the conveying line to the discharge point.
The Fuller-Kinyon® Kompact™ 61v pump has proven its reliability since 1961, with more than 45 years' experience.
Heavy-duty cast iron
Minimum maintenance
Totally enclosed, dust-free
Installed directly under hopper bottom railcar
V-belt drive flexibility
Capacities up to 33 m³/hour (1160 ft³/hour)
Low pressure operation
---