SK One-Way Cutoff Valve
Product Announcement from FLSmidth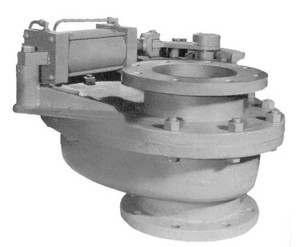 FLSmidth's SK one-way cutoff valves are designed to provide a positive cut-off and seal for pressure and vacuum pneumatic conveying lines. The valves can be used at inlet and outlet locations on conveying pressure tanks. The cut-off valve can also be used on branched systems to permit selection for line activation or to prevent short-circuiting of a conveyor by stopping airflow through an unused section. Air cylinder operated for quick, responsive cut-off.
The Type SK one-way cutoff valve is available in seven basic sizes. The 76mm through 152mm (3" through 6") valves match the I.D. of standard Schedule 40 pipe. The 203mm through 305mm (8" through 12") valves match the I.D. of standard Schedule 30 pipe. Operating temperature up to 205°C (400° F).
Body - Durable machined cast iron construction.
Disc - The valves employ replaceable hardened seats and discs, ground and lapped to ensure positive sealing. An air cylinder actuator provides fast and positive cutoff operation. 50 to 100 PSlG (3.5 to 7 Kg/cm2) clean plant air required.
Accessories
Weather-proof (NEMA 4) limit switches are included for positive indication.
Special Applications
High temperature 455° C (850° F), hand-operated, voltages.
Hard coatings on interior surfaces
---