FOBA Remote Service (FRS)
Featured Product from FOBA Laser Marking + Engraving (ALLTEC GmbH)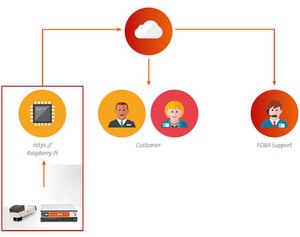 Production downtime and failures are always inconvenient. Most of the time, the recovery takes longer than necessary as failures are detected too late and can't be fixed immediately. However, unplanned downtime is often triggered by simple things that can be easily addressed – provided, one has a little advanced warning and can react remotely. Such as with the FOBA Remote Service::
Your laser sends you a message when a manual interaction is required.
In the case of a failure, your laser contacts you or FOBA's support automatically in order to reduce unplanned downtimes to a minimum.
Via remote access, you take a look at the data of your laser and fix the error.
Push-button training and support – even with operations running.
All laser data are collected, analyzed and neatly presented.
Hardware and software requirements
The Remote Edge Server (RES) is a microcomputer with a Linux operating system that is used to collect and send information from FOBA Remote Service-enabled lasers to the FOBA Cloud.

Specifically, the RES collects information from lasers and pushes those files through a secure tunnel to a specified endpoint in the FOBA Cloud.