Holistic Marking Process: FOBA HELP
Featured Product from FOBA Laser Marking + Engraving (ALLTEC GmbH)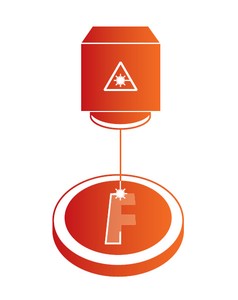 HELP in three stages:
Laser marking with validation prior and right after marking eliminates potential marking errors.
1: Pre-mark verification
Part validation: Validates correct part and prevents marking of wrong or defective parts.
Pre-mark verification: Confirms that only unmarked parts are being processed.
Mark alignment: Aligns the mark relative to the position of the part.
2: Laser marking (product identification)
3: Post-mark verification
Mark verification: Validates that marks have been placed correctly (positioning, alignment, size).
Optical Character Verification (OCV): Validates that every character marked by the laser matches the expected content.
2D code validation and code reading: Reads the contents of 1D and 2D codes (Datamatrix, e.g. ECC 200, GS1, QR, HIBC) and compares the results to the expected content. A classification of the code into quality classes is possible.
Main fields of application:
Ideally suited for the reliable production, especially with regard to the medical device, aerospace, automobile and electronics industries, and the construction of tools, machines and metals.
Your product benefits:
Automatic mark alignment, laser-aided processing and verification
Full traceability and compliance with regulations
More efficient and flexible production: validation of laser marking directly in the laser system right after marking reduces handling times
Reproducible, stable processes
Consistent premium-quality markings
Eliminates possible marking errors and reduces non-conforming parts