Laser Vision System: FOBA Point & Shoot™
Featured Product from FOBA Laser Marking + Engraving (ALLTEC GmbH)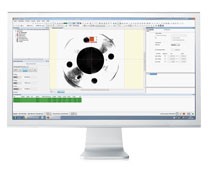 Point & Shoot™ is used to manually position the marking contents on the products to be marked. The Point & Shoot™ camera system views (through the lens) on the marking field, creates an image of the component and displays it in the user interface. The user creates the marking and positions it (via 'drag & drop') at the exact position on the product where it is supposed to be applied.
The camera-guided laser marking process leads to a reduction in the number of defective products and higher degrees of economic efficiency and productivity, since the markings are applied at the desired location and in the specified manner.
Main fields of application:
Production of high-value work pieces and single parts, e.g. in the watches and jewelry industry.
Your product benefits:
Reduction of scrap
More economic efficiency and productivity
Consistent premium-quality processing
Uncompromising precision