Low VOC High Temp Coating
Featured Product from FORREST Technical Coatings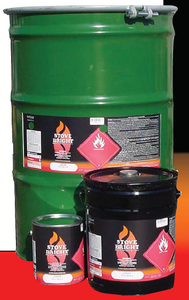 You can count on FORREST Technical Coatings to deliver the best in heat resistant coatings, and our coating line includes a variety of products with Low VOC and Low HAPS ratings to meet or exceed changing environmental regulations around the world. Forrest is driven to apply our expertise in coating chemistry to the specific needs of our customers, creating the balance between paint performance and environmental impact.
The Stove Bright High Temp Low VOC – Satin Black [262H291] is a 3.5 VOC compliant coating with peak temperature tolerance to 1200°F (649°C). Spray application to properly prepared metal substrate (steel, aluminum, etc.) yields a finished coat that holds its appearance when exposed to continuous heat up to 800°F (427°C). The coating can be exposed to peak temperatures of 1200°F (649°C) for short durations without damging the coating intergity.
Perfect for heating units used indoors, such as pellet sotves or gas fireplace inserts, this product has been proven to provide corrosion resistance during transport from manufacturing plants overseas to delivery in the United States - a real life salt fog test.
The coating can be applied with various types of spray equipment, including conventional air-assisted airless, and HVLP systems. The product is delivered at ready-to-spray viscosity from our factory. We recommend manual agitation with a stir stick, followed by vapor safe mechanical agitation before spraying. For optimum finish quality we strongly recomend a spray system with constant agitation (slow paddle stir) of the product while it is delivered to the spray gun.
All our heat resistant coatings are backed by our high level of technical support to ensure the best results. In the continental United States we can place technical experts on-site at manufacturing facilites to assist with training and best practices.
Stove Bright High Temperature coatings have the added advantage of exact match aerosol touch-ups. Forrest Paint Co. manufactures and controls the quality of the aerosol touch-up to ensure it exactly matches the sprayed finish from your factory.
FORREST World Headquarters • 1011 McKinley Street • Eugene, Oregon USA • 800-537-7201
Retail Paint Locations:
990 McKinley Street • Eugene, Oregon USA • 541-868-1222
2526 NW Yeon Ave • Portland, Oregon USA • 800-228-0207
1741 South Central Ave • Kent, Washington USA • 253-854-6372
3808 North Sullivan Road Bldg N-17 • Spokane, Washington USA • 509-924-3785