Precision Air relay (air operated regulator)
Featured Product from FUJIKURA COMPOSITES Inc.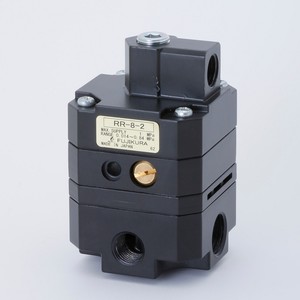 Features
Servo-balanced system comprising rolling diaphragm and measuring capsule provides exceptionally precise and stable pressure control with constant bleed feature. RR series offers exceptionally precise 1;1 pressure relay control with ±bias adjustment capability by external pilot operation. However, the adjustment is ±0.2Mpa at maximum.
?Available to control air pressure accurately by sensibility 0.1%F.S., repeatability ±0.1%F.S.
?Superior in relief, pressure, flow sensitivities. Particularly, minimum relief pressure (relief sensitivity) as low as 0.03kPa,0.004psi(theoretical value) finds best applications in tension control, air balancers and others.
?No readjustment of regulated pressure required even after long "down-time". ?Available to remote-control by using our air relay RR series.
Applications
?Tension control
Combination with BF cylinders (SC series)
Printing machines, paper craft machines, plastic film fabricating machines, textile machines, etc.
?Press control
Combination with BF cylinders
Grinding machines, friction testing machines, soil tester, cutter, etc.
?Volume booster
Valve regulators relating to instrumentation devices, etc.
?Set pressure of various regulated pressures by remote-control.
Best applications for air-balancer, air-micrometer, leak tester, dispenser and others.