Rolling diaphragm air cylinder
Featured Product from FUJIKURA COMPOSITES Inc.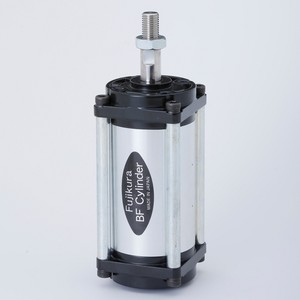 Features
- FC Series are standard type of BF Cylinders. They are designated in a variety of sizes from 10 to 200φ(0.39?7.87in.).
- Each size has both a single action type and a double action type.
- A variety of mounts, that is, L, Flange, Trunnion, Pivot are available.
(Available for cylinders of on/over 25mm(0.98in.) diameter)
Applications
BF Cylinders find its best applications in such cases where air leakage is not allowed and/or sensitive response to minute pressure variations are required.
- High sensitivity actuator for automatic controlling equipments, pressure rollers and dancer rollers.
- Air fine equipment in the clean factories without oil mist contamination.
- Polishing equipment for lenses or jewels.
- Precision actuator, etc. in case of requiring a certain output pressure (e.g. spot welding machines, etc.)
- Actuators for emergency uses.