Battery powered LCD electronic counter - CH Series
Featured Product from Fargo Controls, Inc.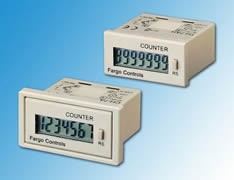 Fargo Controls Inc. has a small size, low-cost Totalizing LCD Counter for today's industrial applications.
Our CH Series electronic LCD counters have a small panel footprint and are powered by a lithium battery. They have a 7-digit LCD display, a push button reset, and accept a wide range of inputs. Their reset function can be disabled if desired.

These self-powered LCD counters are designed for applications where no external power is available, as replacements for electromechanical counters, event counting and part counting. Some typical applications include: Amusement machines, dispensing machines, ticket machines, copiers, printers, utility meters and portable equipment.
CH Series totalizing counter
Starting at $34.95 net each
Features
Low cost
7 Digit LCD display
Screw terminals
Battery Powered Totalizing Counter
CE Compliant to the EMC directive
Accepts a wide range of inputs
Small panel footprint