Elapse Timers - LCD Battery Powered Timers
Featured Product from Fargo Controls, Inc.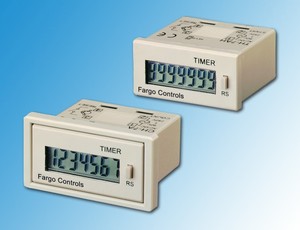 Fargo Controls, Inc -
The TH Series are elapsed timers that display time in hours or minutes. This series has a small panel footprint and is powered by a lithium battery. They have a 7-digit LCD display, a push button reset and are panel mounted. They accept a non-voltage contact closure / NPN open collector or a 90-240V AC/DC input. The unit times as long as it is receiving an input. When the input is removed the timing stops. The front reset button can be disabled if desired.
These self-powered timers are designed for applications where no external power is available and as replacements for electromechanical hour meters. They are designed for the determination and monitoring of operating time, warranty period and maintenance intervals on machines and devices. Typical applications are in mechanical processing and woodworking, the textile and paper industry, on central heating boilers, electrical furnaces, power drives, motors, rectifiers, etc.
Fargo Controls, Inc.
PO Box 539
Eatontown, NJ 07724
Phone: (732) 389-3376