Harsh Environment Inductive Sensors
Featured Product from Fargo Controls, Inc.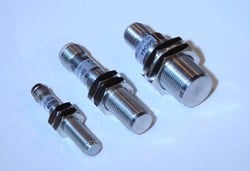 Fargo Controls, Inc. has Inductive Metal Face Proximity Sensors with Extended Sensing Distance.
These flush mount 8mm, 12mm and 18mm diameter inductive sensors have a one-piece stainless steel body that includes the sensing surface. This stainless steel body along with the extended range make these sensors well suited for very harsh environments. They have outstanding abrasion, impact and corrosion resistance. These sensors can reduce downtime and extend service life over sensors with plastic sensing surfaces.
FEATURES:
Corrosion resistance
Abrasion and impact resistance
Extended operating range
Short circuit & reverse polarity protection
LED function indicator
CE & RoHS
Inductive proximity sensors are used for non-contact detection of metallic objects to control, position and monitor processes in automated machinery and industrial equipment. The presence of a metal in the sensing area causes the sensor the change its output state. They offer many advantages over switches that require physical contact.
For more information visit: http://www.fargocontrols.com/inductivemetalface.html
For information on our other Proximity Sensors visit: http://www.fargocontrols.com/sensors.html