Inductive Ring Sensors
Featured Product from Fargo Controls, Inc.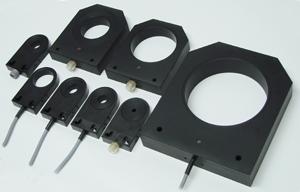 Fargo Controls has precision inductive ring sensors. These sensors are designed to detect metallic masses entering or passing through the ring. They are ideal for the sensing, counting, positioning and checking of small metal objects such as: screws, washers, nuts, needles, plungers, rods and the control, detection, position, inspection and automation of machine tools and manufacturing systems. Fargo Controls' inductive ring sensors also feature a selector switch that allows for a retained output pulse of 100 mS. Perfect for fast moving and/or small parts.
Fargo Controls' Inductive Ring Sensors are available with internal diameters of 5, 12, 15, 22, 25, 30, 44, 63 & 100 mm. The housing is composed of rugged, sealed plastic that provides a protection degree of IP 65 and temperature range of -25° to +70°C (-13° to 158°F), enabling these sensors to withstand harsh environments.
Standard features include: sensitivity adjustment; supply of 10-30 VDC; NPN or PNP, NO+NC outputs; switching current up to 200 mA; pre-wired or quick disconnect models; reverse polarity & short circuit protection; shock and vibration resistant; LED function indicator, CE and RoHS compliant.
For more information on our Inductive ring shaped sensors see: http://www.fargocontrols.com/sensors/ring.html