Programmable Capacitive Proximity Sensors
Featured Product from Fargo Controls, Inc.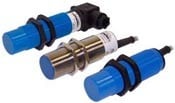 Fargo Controls, Inc. is pleased to offer a unique normally open (NO)/ normally closed (NC) selector switch on its AC/DC 30mm capacitive sensors. This combination of output and voltages greatly reduces the need to stock separate models. These models are also not polarity sensitive, so there is no complicated wiring or a need to reverse wiring to change the output.
Capacitive sensors are used to detect metal and non-metal objects (liquid, plastic, paper, glass, wood, etc). Our sensors are housed in metallic or plastic cylindrical threaded 30 mm casings and have an adjustable operating distance up to 25mm. They are also water and dust tight, as well as, shock and vibration resistant making them perfect for harsh environments.
Standard features include: adjustable operating distance, LED, short circuit protection, protection degree of IP65, cable or connector versions, CE marked and now RoHS compliant. A waterproof protective housing is available. This housing can be mounted into a container allowing for quick and easy sensor removal without material loss while protecting the sensor from abrasion.
These sensors are ideal for non-contact liquid or solid level detection, sensing or counting of metallic and non-metallic objects in the following types of machinery: production, packaging, wood working, paper preparation, plastic molding, food processing, etc.
More information can be found here: www.fargocontrols.com/sensors/capacitive.html
For all our proximity sensors, visit www.fargocontrols.com/sensors.html