Timer, Counter and Tachometer...Programmable
Featured Product from Fargo Controls, Inc.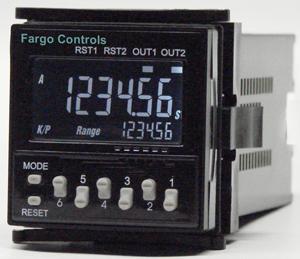 Multi-function Timer/Counter/Tachometer
Fargo Controls The TC is a powerful 6-digit multifunction programmable preset Timer/Counter/Tachometer with a communication interface. It has RS-232, RS-485, RS-422 Serial Communications and supports Modbus protocol. It can easily be connected to a PC for programming and logging of data.
The Timer has 10 output modes, 10 timing ranges in 3 configurations.
The Counter has 12 output and 5 input modes in 6 configurations and scaling for displaying of specific units or lengths.
The Tachometer has 4 output modes and scaling to display rate per min., hour, sec. or speed.
Additional Features:
Highly visible backlit negative LCD display
Visual alerts when output status changes
2 output relays
PNP/NPN selectable DC-voltage inputs
Up/down, add/subtract and quadrature input modes
12VDC supply for powering sensors and encoders (AC version)
Keypad lockout functions
Can be programmed by front keypad or by connecting to a PC
Communication interface for connecting to PC/HMI
Downloadable software for PC connection
EEPROM that can stores data for 10 years if power is lost.
All of this at a great low price! Contact us to get a quote based upon your requirements and quantity.
For additional information this electronic Timer, Counter and Tachometer visit: http://www.fargocontrols.com/tc_timer_counter.html