FARO 3D Imager AMP
Product Announcement from FARO Europe GmbH & Co. KG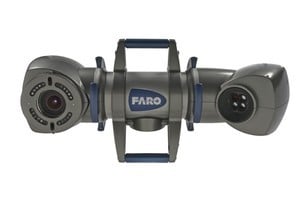 FARO's first 3D Imager is a high performance, non-contact 3D Imager, capable of collecting millions of points in just seconds. Using patented technology, the AMP achieves groundbreaking accuracy never before possible on parts, assemblies and tools.
Features
High accuracy (metrology grade imaging)
Large volume (500 x 500 x 220 mm field of view)
Laser performance (enhanced ability to measure dark and shiny surfaces)
Great value (high-end performance at an affordable price)
There is a wide range of industries with measurement challenges that can be served with 3D imaging technology. The following is a list of applications that are suited for the FARO AMP.
Quality Control
First article inspection
In-process checks
Final Inspection
Reverse Engineering
As-built documentation
Aftermarket product design
Virtual assembly
Simulation
Rapid Manufacturing
Rapid prototyping
Tool modification
Iterative product enhancement
---