24% More Torque Per Watt, in a Powerful 10mm Motor
Featured Product from FAULHABER MICROMO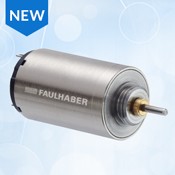 MICROMO is proud to expand the compact DC motors family by launching the newest addition to the FAULHABER SR series: the 1016 SR. At only 10 mm in diameter and 16 mm in length, the 1016 SR series delivers over 24% more torque per watt than competitive motors of the same dimensions.
The new 1016 SR series motors, like the previously launched 0816 SR and 1024 SR series, are ideally suited for applications where maximum power is required in the most compact spaces, and are combinable with suitable FAULHABER drives and encoders.
The new 1016 SR motor series reaches a continuous torque of 0.92 mNm with a diameter of only 10 mm and at a length of 16 mm. Its Δn/ΔM characteristic curve has an especially flat slope of 5,953 rpm/mNm, 3 V and therefore makes it possible to have extremely soft transitions during a load change. Further strengths of the motor are its low power consumption, high energy-efficiency and minimal vibration and low audible noise, making it well suited as a drive for applications with small dimensions and very high requirements, such as for precision tools, optical devices or active prostheses.
Visit the MICROMO website to read the full product launch details.