MICROMO Brushless DC Servo Motors Series 1218 B
Featured Product from FAULHABER MICROMO LLC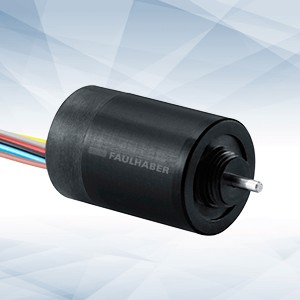 MICROMO is pleased to announce the arrival of a new high-performance small brushless DC servo motor from FAULHABER: the 1218 B Series. This new brushless motor series is designed to address applications where high power and overall motor size are key requirements. Measuring 18 mm in length with only a 12 mm diameter and featuring a wide standard operating temperature range from -20°C to 100°C makes the 1218 B ideal for challenging applications. Based on the revolutionary System FAULHABER ironless stator winding design, the motor provides a reliable option for challenging fields of application such as medical pumps, robotics, and laboratory automation.
The 1218 B series is available for purchase on the MICROMO website. Delivery in three days or less is available for most configured 1218 B series products.
The 1218 B brushless motor delivers continuous torque up to 1 mNm and have integrated digital hall sensor feedback. When combined with the wide range of FAULHABER planetary or spur gearheads, the output torque can reach up to 300 mNm. For high-precision positioning applications, zero-backlash spur gearheads provide a compact alternative to reduce or eliminate undesirable mechanical play in the application.
MICROMO offers a complete portfolio of drive electronics to match the requirements of the 1218 B. From the miniaturized SC 1801 2 and 4 Quadrant speed controller to the compact MC 3002 motion controller with serial or CAN interface, MICROMO can provide or create the best solution to fit the application.
About MICROMO
MICROMO (FAULHABER Group) specializes in high?precision, micro drive systems, servo components and drive electronics with output power of up to 200 watts. The product range includes small brushless DC motors, small brush DC motors, piezo motors, micro stepper motors, linear servo motors, gearheads, encoders and motion controllers. In addition, MICROMO also offers custom design solutions for markets such as medical, aerospace, optics, robotics, and semiconductor equipment.
MICROMO's Application Engineers look beyond just components to offer optimal solutions for custom mechanical and electrical requirements. MICROMO's seasoned team has the experience in the field to assist customers with choosing the correct component and system for unique motion control needs and to meet superior precision and reliability requirements.
For more information, please contact the MICROMO Team.