QUICKSHAFT® Linear DC Servomotors
Featured Product from FAULHABER MICROMO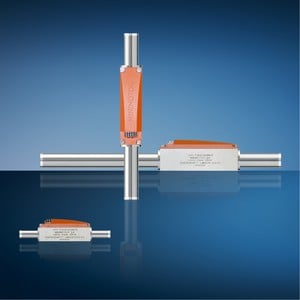 MICROMO offers the QUICKSHAFT® line of Linear DC Motors from the FAULHABER Group.
The innovative design with a 3-phase self-supporting coil and non-magnetic steel housing offers outstanding high-resolution performance. The absence of residual static force and the excellent relationship between the linear force and current make these motors ideal for use in micro-positioning applications. Three analog-Hall sensors allow position control with resolution measured in microns without the need for an encoder. Lifetime of the QUICKSHAFT® Linear DC Servomotors is mainly influenced by the wear of the sleeve bearings, which depends on operating speed and applied load of the cylinder rod. The QUICKSHAFT® is in available in three sizes starting at 8mm wide with peak force ranging from 2.7N to 27.6N.
The MCLM3003/06 series controls the QUICKSHAFT® linear motors. The free FAULHABER "Motion Manager" software provides rapid and easy setup for control through serial communication, CAN interface, or stand-alone operation. In numerous applications, this newly developed drive has proved itself to be the best-in-class solution for highly demanding linear movement and positioning tasks.