The Next Generation of Sub-Micron Precision
Featured Product from FAULHABER MICROMO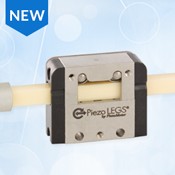 MICROMO is pleased to announce the release of a new direct drive linear motor with integrated encoder – Piezo LEGS® Linear 6N, also called LL06.
High Precision Motion in a Compact Space for OEM Applications
This new motor is the next generation of the classic Piezo LEGS®. The motor has undergone major redesign and repackaging, with the same piezo ceramic actuators at its core as the popular predecessor, LL10. The basic performance characteristics are therefore unchanged, but now with a slimmer design and options for guides that steer the drive rod, and an integrated high resolution optical encoder.
"The LL06 represents a milestone for PiezoMotor - a new motor generation which is designed to meet customer demand for compact size and integration of a high resolution position sensor, and competitive in price so that it can replace conventional stepper motor and lead screw assemblies in many OEM applications." - Johan Westermark, CEO of PiezoMotor.
The slimmer basic design allows for integration in even tighter spaces. The non-encoder version motors can be stacked with a center-to-center distance of only 7 mm. Weight has also been reduced by 30% with a total weight of only 16 grams (including guides and encoder). Plastic guides to steer the drive rod improve the repeatability of the motor and make integration into customers' systems easier. The integrated incremental position sensor with 1.25 µm resolution allows closed loop control, saving valuable space as there is no need for bulky external encoder systems.
Visit the MICROMO website for the full product launch details, and to download datasheet and CAD files.