PAGASYS Public Address/General Alarm System
Product Announcement from Federal Signal Corporation/Industrial Systems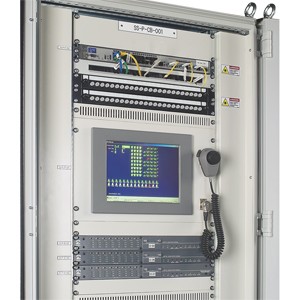 Stand-alone or fully duplicated systems
Customizable zoning
Self-healing ring network with line load supervision
Windows-based user interface
Local and remote monitoring and reporting
Greater than 84% efficiency with hot-swappable Class D amps
Equipped with hot stand-by auxiliary amps
Standard 19" rackFederal signal's PAGASYS Public Address and General Alarm systems provide a productive combination of reliability and functionality. Stand-alone or fully duplicated systems can be customized to meet the specific requirements of an industrial plant, campus-style facility or offshore platform. Pulse-width modulated, Class D amplifiers operate with greater than 84% efficiency; minimize heat generation; and prevent power surges upon start up. Also, these compact PA/GA systems require less space, a smaller UPS, and less cooling than traditional systems. An on-board digital signal processor provides tone generation and pre-recorded voice messages. Analog audio inputs permit integration of external tone generators and intercom systems. An I/O card allows you to integrate third party alarm systems and auxiliary signals, such as gas detection controls and beacons, for a complete emergency notification system. Guaranteed system integrity is the result of subsonic line load supervision and a self-healing ring network. Each rack is equipped with hot standby amps that assume the load in the event of individual amp failures and failed amps can be replaced quickly on a powered system. User controls and fault reporting are easily accessed on the local LCD display or remotely via the Window's based user interface. The system can also provide notification via e-mail.
---