WV450XLD Hazardous GRP Multi-Pattern LED Beacon
Product Announcement from Federal Signal Corporation/Industrial Systems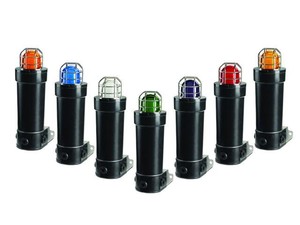 Eight LED light patterns
Seven available lens colors: Amber, Blue, Clear, Green, Magenta, Red and Yellow
316 stainless steel mounting bracket included
IP66
Corrosion-resistant GRP (Glass Reinforced Polyester) housing
Dome guard included
M20 entries standard
50,000 hour LED Array
Zone rated, IECEx, ATEX, Ex d IIB +H2 T6, Ex de IIB +H2 T6
Model WV450XL is a LED signal designed to serve the demanding needs of offshore marine and land based industrial applications. Its long-life LED array can operate in one of eight light patterns: (1) Steady On, (2) Blink (60 FPM), (3) Random Blink, (4) Rotate (120 RPM), (5) Variable Pulse (6) Strobe Simulation (60FPM), (7) Strobe Simulation (90FPM) and (8) Severe Alert. These patterns are non-standard; they allow for visual signaling variation in unique applications and can be selected in the field via dip switch.
Model WV450XL utilizes all of the latest techniques in non-metallic housing construction. The body of the product is comprised of Glass Reinforced Polyester (GRP) and 316 stainless steel hardware. The use of GRP in the design improves corrosion resistance and reduces weight as compared to traditional metal housings. The GRP construction also saves time and money over the life of the product by reducing or, in most cases, completely eliminating the need to perform regular field inspections of the flame path.
The WV450XL comes standard with metric entries, a 316 stainless steel dome guard and a 50,000 hour rated LED array. There are two versions of the WV450XL available. The flameproof "d" versions come standard with a 316 stainless steel mounting brackets and two M20 entries for field cable gland connections. The increased safety "e" versions have the added feature of a terminal chamber with three M20 entries. The increased safety design allows for quick field termination and pass-through wiring.
---