VZXF – a Heavy Duty Angle-Seat Valve
Featured Product from Festo Corporation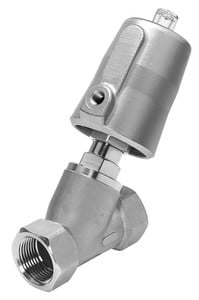 Festo introduced today the VZXF line of angle-seat valves. These new valves are equally suitable for gaseous and fluid applications and are ideal for control of media flows whether contaminated or highly viscous at up to 600 mm²/s. A VZXF unit is insensitive to contamination because it does not have small diameter control apertures.
Water hammer effects that tend to induce component wear are not an issue with the line of VZXF valves because the valves close in the direction of media flow for gases and close against the direction of media flow for fluids. For safety, these valves automatically close on pressure loss in the control circuit. VZXF valves operate without the need for any pressure differential.
The VZXF are 2/2-way valves, normally closed. These poppet-style valves have spring returns and are compatible with external Festo control. Fittings are available in both NPT and G threads. These brass or stainless steel units can be mounted in any position. Seat-seal material is available in Brass, NBR, and PTEF. Sizes range from 1/2 to 2 inches. Normal pressures are PN10 and PN16. Flow rate is Kv 2.8 – 47.5 M3/h.
"The new VZ series of valves brings gas and liquid valve solutions to Festo's process offerings that already include lines of ball, butterfly, and gate valves and automated controls," said Craig Correia, process industry segment manager, Festo.
"The fact customers can now come to Festo for a host of process solutions as well as discrete options brings a lot of value in terms of a one-stop-shop for some of the best automated solutions in the world. If OEMs and end users are not familiar with Festo or were a customer in the past, it's time to take a new look at our company."
For more information about the VZXF and other new VZ neutral gas and liquid valves, call Festo at 800-993-3786 and visit http://www.festo.com/us.