Composi-Cover™ Launder Covers
Product Announcement from Fiberglass Fabricators, Inc.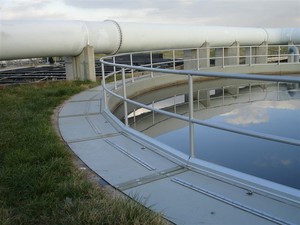 FFI has been designing and fabricating high quality launder covers for decades. Our thoroughly engineered systems provide superior algae prevention and odor control. By utilizing a flat design, total air volume is reduced, thereby minimizing odor control system cost.
___
Features of our covers include:
Designed to ASCE loading standards
316 SS hardware
Full access to launder
Flanged penetrations
Sealed, air-tight design
Walkable or non-walkable options
___
Specifying an FRP cover requires consideration of resin grade, glass type, structural design, accessibility needs, air flow, head space...and the list goes on. We're prepared to work with the engineers, contractors and end users from start to finish to get the job done right the first time. Contact us with your project today!
About Fiberglass Reinforced Plastic (FRP)
Fiberglass Reinforced Plastic ( FRP ) is most often referred to simply as "fiberglass" in practice (as in fiberglass tanks, fiberglass grating, fiberglass structural shapes, etc.). Used in this context fiberglass or FRP is a composite consisting of a plastic resin matrix reinforced by embedded glass fibers. The strength of an FRP part is determined primarily by the type, orientation, quantity, and location of the glass fibers within the part.
Standing out among the materials used in water and wastewater facilities, FRP is a cost-effective and lightweight material with a greater strength to weight ratio than steel. It can be molded into complex, colorful, one piece designs with exceptional uniformity, dimensional accuracy and stability. FRP has an excellent corrosion resistance as well as high impact strength. It is unaffected by frequent temperature variations and is highly resistant to extremes of heat or cold. FRP is easy to clean and requires little to no maintenance or down time, reducing its long term costs compared to other materials. Furthermore, our products are easy to install as the structural members are cut to length and match-marked, if not pre-assembled.
While there are many companies that manufacture and sell FRP products, not all fiberglass is created equal. The fiberglass laminates manufactured by FFI are engineered based on the job-specific loading conditions and chemical environment. Our products are designed to meet or exceed ASCE standards. Our FRP covers are designed to be fully walk-able and to handle all environmental loading conditions based on ASCE standards. The materials used in our fabrications are produced by the hand lay-up process, vacuum infusion, light RTM and/or pultrusion.
About Fiberglass Fabricators Inc.
Founded in 1954, Fiberglass Fabricators, Inc. (FFI) has served the water and wastewater industries for over 50 years. With thousands of installations, our products have successfully filled a need in a wide array of applications. Specializing in weirs, baffles, troughs, launder and tank covers as well as custom products, FFI has the experience and know-how to tackle a broad range of FRP projects. As we see FRP specified more and more often in corrosive environments across a wide array of industries, we continuously seek to be the first choice of end users, contractors and engineers.
Fiberglass Fabricators designs and fabricates a full line of FRP products for industrial customers across a wide array of industries. Our products have been used in industrial applications ranging from coal fired power plants, to mining, to alternative energy. Our ability to account for different chemical, structural, environmental and functional needs allows us to engineer products to your unique requirements.
FRP is the material of choice in many industrial settings when customers need:
Corrosion resistance
Lightweight
Zero maintenance
Design versatility
Easy installation
Fiberglass Fabricators has the capacity and experience to fully design, engineer, and fabricate an unlimited number of custom FRP products using a variety of structural FRP shapes, plates, and other FRP components for innovative and unique solutions. Please do not hesitate to discuss your ideas with us.
From one-off fabrications to multi-year projects, no job is too large or too small. We have the engineering and fabrication capabilities to tackle a wide range of projects for industries ranging from oil and gas, to transportation, to power generation, to commercial architecture and more! Contact us today and we'll work closely with you to provide a cost effective solution.
Fiberglass Fabricators Inc. Over 50 Years of Experience
How can we help you?
With over 50 years of experience providing high-quality FRP products to various industrial markets, FFI is prepared to tackle your project. Whether you're a plant operator, an engineer, a contractor or otherwise, we're ready to work with you every step of the way. Contact us directly, or get in touch with our local manufacturer's rep in your area.
We look forward to hearing from you!
---