3-4x Brighter Than Halogen-LED Light Engine
Product Announcement from Fiberoptics Technology, Inc.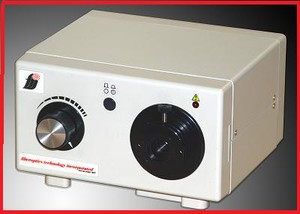 High power LED light source project for large active diameter industrial applications.
Using a very simple but effective patent pending coupling strategy, FTI engineers can couple the light from a high power white LED into a fiber optic cable at high efficiency rates. The resulting output exceeds the power of a similarly coupled EKE halogen lamp in active diameter sizes up to 12mm. The power supply design allows the unit to achieve the highest brightness levels in the market.
The product offers true color balance, excellent uniformity, improved electrical efficiency, with the same footprint as existing halogen lighting technology. Users can replace older halogen technology without altering existing systems or components.
"After nearly 4 years of research and development, our team has made a second important breakthrough; an LED source capable of generating more photonic output than an EKE lamp at the full 12mm spot size. This will enable our customers to update their industrial process and vision systems with a long-lived, bright, and dependable source, eliminating down time associated with lamp changes. I believe the introduction of this unit signals the beginning of the end for the traditional 150W Quartz Halogen source, and more importantly, ushers in a new era of importance for fiber-based illumination systems." said Walt Seagrave, Product Manager and Paul Dobson, Chief Engineer responsible for product development.
FTI's LED light technology provides the following features:
More power than an EKE lamp within a 12mm focal spot.
Long life (50000) hours - no lamp to change.
Stable output throughout the usable life.
Active heat management with integral cooling fan.
Optional communication package with Ethernet and RS485 connectivity. -control functionality; set pulsing, overdrive, and timing values over the internet in real time.
6000K color temperature.
Download a detailed pdf spec sheet on the LO-100 Light Engine and for more information e mail us via the the links on the left - we welcome your inquiries
---