Ceiling Tile System makes you see Stars
Product Announcement from Fiberoptics Technology, Inc.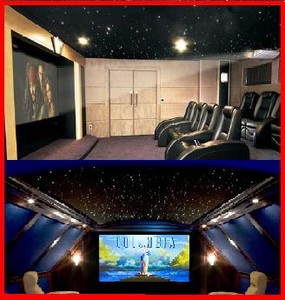 Drop ceiling Star Scape ceiling tile systems are quick and hassle free with FTI's factory applied fibers. Create a soothing natural effect, secondary ambient lighting or custom effects with twinkling or shooting star options with the "Plug & Play" 2x2 tile system. Easy to install, tiles can be trimmed for fit.
Features:
· Star Density from 3 - 7 per sq ft
· LED light source on each panel - estimated lifetime > 40,000 hours
· Twinkle/Shooting Star options
The Plug and Play pre-populated 2x2 tile system installs simply: just drop the panel into the gride and plug into the last tile placed. Large areas and special shapes are easily designed and quoted. Star Scape ceilings tiles consist of four components:
· The ultra bright LED light source
· The power supply
· The pre installed polished star bundle
· Wired daisy chain connector
Using this system, you can install a high quality star field in the same time it takes to hang a ceiling, without measuring, cutting, drilling,taping, gluing, routing, or crawling.
To learn more and read the installation guide click on the Product Details web link on the left, or e mail your inquiries.
---