Fiber Optic Light Guides
Product Announcement from Fiberoptics Technology, Inc.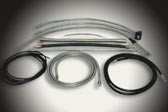 FTI produces thousands of different light guide designs for industrial applications.
Standard products have the following features:
Your choice of glass type: "White Light" fiber for the best color rendition and the brightest white light, or "Silicon Matched" fiber for best results with solid state silicon IR emitters and detectors.
Stainless steel construction: The flexible jacketing and all end fittings are made from 300 series stainless steel for maximum fiber protection and long, trouble free service.
500 degree epoxy. High temperature epoxy enables each end to be usable up to 500°F continuously.
Swaged end fittings create secure connection to the sheathing.
Machine polishing on all fiber faces ensures the best light output in the industry.
Standard Lengths: 1,2,3,4,5,6,8,10,20,30 Feet. (.3,.6,.9,1.2,1.5,1.8,3,6,9M)
OPTIONS Have a special application? You may change the length, sheathing and fiber type. You may also specify custom fittings for either or both ends and special construction that will make one or both ends operate up to 900 degrees F. Any light guide may have the fibers randomized for optimal uniformity.
Finally, high heat, vacuum or pressure applications require special consideration. Contact us directly for more information, use the Product Details web link on the right, call or e mail us
---