LED Light Engine 3-4X Brighter than Halogen
Product Announcement from Fiberoptics Technology, Inc.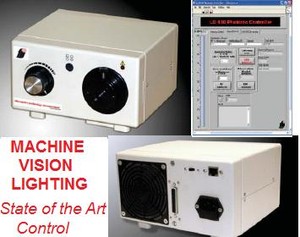 FTI's LO100 LED Light Engine delivers 3-4X the brightness of halogen, uses 50% less power, has long life (50,000 hours) and provides traditional communication connectivity & the latest wired or wireless Ethernet protocol, in a do-it-all standard package with State of the Art Control LEARN MORE & REQUEST AN ONLINE DEMO
Communication protocol allows control of the light source via Smart camera or TTL signal. (No manual trigger)
Run continuously or intermittent from 10 microseconds to 14 milliseconds (triggered, software controlled)
Continuous intensity can be adjusted locally or with wired remote, or through the control from 0-100% in 4096 steps
When connected through the RJ45 ethernet port, up to 254 illuminators can be uniquely configured. (RS232 communication can control only one unit.)
When controlled by intermittent trigger, user may overdrive intensity by as much as 67% (67% over 100%) to maximize process speed.
Up to 50,000 pulses/second can be accepted.
User programming via ASCII commands - command set available from Integrity Instruments 485M300 Series I/O Modules Manual
0-5 volt input- 3V is 100% intensity for continuous on usage. 5V is over driving intensity by 167% (intermittent only)
Intensity & pulse time settings are stored in on-board flash Memory
Entire package is integral to the unit... Comes complete with separate installation/startup manual and demonstration software.
YOU CAN SEE THE REMOTE LIGHT SOURCE CONTROL BY REQUESTING A LIVE ONLINE DEMONSTRATION. CALL TIM BEEMAN AT 800-433-5248 OR E MAIL HIM VIA THE LINK ON THE LEFT
Learn more about the State-of-the-Art lighting control of the LO100 and how it can benefit your industrial machine vision system
---