LED - More power than a halogen EKE lamp
Product Announcement from Fiberoptics Technology, Inc.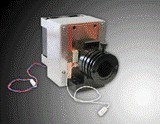 The NEWEST fiber optic lighting offering from FTI is a White LED Light source, featuring a patent-pending optical connector that collects and transmits more optical power than a quartz halogen EKE lamp in a 5mm spot. The operating life of the LED is 50000hrs.
A patent-pending coupling strategy collects and transmits a higher percentage of LED output. In the current configuration, this approach can collect and transmit enough power to surpass the output of a traditional EKE type Halogen lamp within a 5mm spot. This is a current limited device for consistent output. Color temperature is bin selected and stable at 6000K. The active heat management approach is efficient AND flexible. Should the chip ever fail, it can be replaced in the existing housing. This is also the first light engine module offered by FTI for OEM application as well as being integrated into a stand-alone unit.
Long life (50000) hours - no lamp to change
Stable output throughout the usable life
Integral heat management with temperature controlled cooling fan
Very small footprint
White, daylight balanced 6000K output.
Separate dimming and on/off function
Chip can be replaced
Prepared for FDA Class II certification
Cost efficient
FTI plans to certify the stand-alone unit for medical applications by the fall of 2009. The light engine module is currently available as a beta unit for OEM & end users evaluations & applications.
---