Light Guides for Photoelectric Control
Product Announcement from Fiberoptics Technology, Inc.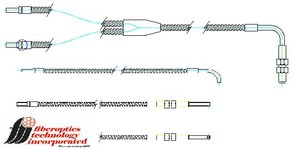 For some types of sensing applications, fiber optic components are used to transmit and receive a light signal, carrying the signal back to a photo sensor, which in turn, actuates an electric control. The overall process senses and reacts to a difference in light intensity to confirm the absence/presence/position of an object.
Fiber optic components protect photoelectric sensors (from heat and harsh environments) and facilitates their use in space-restrictive areas. They may also be used to isolate vibration, keeping the sensor stable in continuous motion applications.
Because fiber optic components can be shaped to match the profile of the object being sensed, they help improve the accuracy of photoelectric control.
Application potential is extensive, sometimes requiring special treatment of the fiber for high temperature, high vacuum and wet/corrosive environments
Fiber optic components may be made from plastic or glass fibers. Glass can transmit infrared wavelengths, and will withstand more abuse. Plastic has better resistance to fatigue in constant motion applications, and may be less expensive to produce
FTI manufactures glass and plastic photoelectric light guides as an aftermarket service or OEM supplier.
Here is a summary of FTI's photoelectric control cable product specifications:
Fiber diameter .0018 (30 micron), .002 (50 microns), .0028 (70 micron) (other diameters available upon request)
Core-to-clad ratio 90% of core and 10% of clad nominal
Temperature range -50°F (-45°C) to 525°F (275°C). High temperature of 825°F (440°C) available
Minimum bend radius 2.5 x sheathing O.D.
Chemical stability - transmission is unaffected by water, gasoline, engine oil, sulfuric acid and other organic acids
Numerical aperture .25, .37, .55, .66, and .83
Acceptance angle from 17° to 160°
Length - up to 60 feet
Active bundle diameters up to 2.0" (25.4 mm
End-fittings - stainless steel, aluminum, brass or plastic
Sheathing - pvc/monocoil, flexible pvc (no monocoil), flexible interlocking stainless steel, silicone and neoprene (fluorocarbon rubber and hermetically sealed teflon available upon request)
Tapers and rod Clad white light carrying rigid optical rod Coherent imaging fused rod, maximum fiber packing results in optimum output and image transfer. Taper to help manage light collection or focus.
Need more information? Contact Tim Beeman . Visit our website via the Product Details web link on the right.......Or call us toll free at 1.800.433.5248
---