Medical Light Guide Fast Design/Build Service
Product Announcement from Fiberoptics Technology, Inc.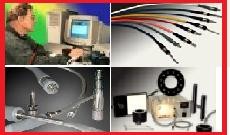 Fiberoptics Technology Inc. (FTI) announces the addition of Rapid Medical Light Guide Prototyping Service (MPS) This new group, which includes FTI's most experienced staff members, focuses exclusively on the desig and production of OEM medical components, and offers medical OEMs a new, extremely fast design and build service for small quantities of modified "standard" designs at reasonable cost.
FTI is able to provide this service not only because of a vast inventory of stocked sheathing and medical end tips, but also because the company maintains a 24 person in-house machining department, with state-of-the-art CNC equipment and in-house laser engraving capabilities.
Fiberoptics Technology Inc. (FTI) Business Management System has been certified to ISO9001:2008 and ISO 13485:2003 standards. At the moment, we are the largest medical fiber optic manufacturing company in the USA registered under the 13485 standard
"FTI has always been dedicated to customer service and satisfaction. Now, instead of telling one customer at a time, we realized we could be more effective by formalizing a process which could be presented to the entire marketplace at once." said Steve Giamundo, the company's President.
In trial runs for typical design/build inquiries, the response time from first contact to price quotation has been 24 hrs, with standard prototype assemblies shipping within 5 days. While the service is extremely fast, there is no cost premium. The process design moves prototype construction through normal production resources, so the transition from prototype to serial production is simple, cost effective, and timely.
"We believe FTI has a strategic advantage in the marketplace which cannot be duplicated; our workforce is very long tenured and experienced in the practical application of fiber optic assembly and design. This single attribute serves as the major point of differentiation to separate FTI from its competitors, and allows the company to institute a program like MPS without disruption in the daily production schedule", said Tim Beeman, the company's Sales Manager responsible for Medical product sales.
For more information about the new service, contact FTI via the links on the left
---