CUSTOM ENCLOSURE CAPABILITIES
Featured Product from Fibox Enclosures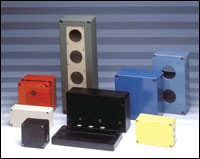 Fibox Enclosures has significantly expanded its in-house capabilities to supply customized plastic and aluminum enclosures. Current assets include a state-of-the-art, Computer Aided Manufacturing (CAM), machining system for milling, engraving, cutting, and embossing.
Customers can receive fast turnaround on popular enclosure modifications including threaded and unthreaded holes, and panel, door, side, and window cutouts. This new CAM machining system can customize any one of over 1000 standard Fibox enclosure with exacting precision.

An innovative graphics converter, built into the new CAM system's software, makes it easy to accept files from different Computer Aided Design (CAD) programs and convert them to the proper machining instructions. For example, customers can supply files in Mastercam, DWG, DXF, or IGES. Other file formats are also possible. As well, Fibox can even develop the CAM files from customer supplied print drawings.

Fibox also offers assembly services to equip its enclosures with a wide range of Fibox accessories including cable management products, mounting plates, inspection windows, terminals, switches, and glands. The combination of custom machining and assembly services assures the Fibox customer minimum enclosure handling and offers a ready-to-use final product.