Pad-lockable swing handle ARCA - IEC
Featured Product from Fibox Enclosures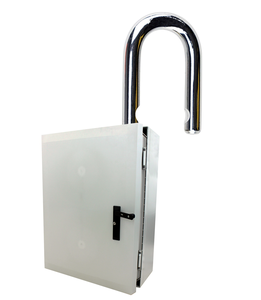 The pad-lockable swing handle design from Fibox makes switching from steel boxes to polycarbonate cabinets even easier! Superior performance and security in the most demanding environments. The ARCA - IEC is the ideal and cost-effective alternative to sheet steel cabinets or fiberglass enclosures needed in harsh and demanding environments.

Fibox is proud to present a further enhancement to the NEMA 4X ARCA - IEC Series; a swing handle option, that is pad-lockable.

The ARCA - IEC Series is a pole mountable, rugged and versatile enclosing solution. This cabinet style enclosure is manufactured in Fibox's light-weight polycarbonate, a robust, Wi-Fi friendly, impact and UV resistant thermoplastic that never rusts.

Sensitive components stay dry and secure thanks to the formed-in-place PUR gasket which makes a watertight seal when closed.

Visit Fibox for more information on how the pad-lockable swing handle can help your customers save time and money!