To House & Protect Electrical Components
Featured Product from Fibox Enclosures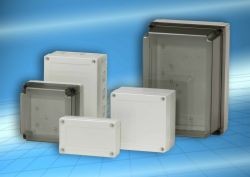 Fibox MNX

Polycarbonate enclosure

VERSATILE COVERS
Gray opaque or smoked transparent polycarbonate covers provide a stylish finish to any installed equipment. Tooling may be cost-effectively
changed to customize covers for volume OEM applications

FIBOX MNX PCM
The enclosure features metric knock-outs molded in place for easy wiring.

RUGGED HINGE
An optional corrosion free hinge is available. Mounted on the outside,
attaching hardware is hidden by decorative covers.


MEMBRANE KEYBOARD RECESS
The cover features a slightly recessed area ideal for overlays and membrane keypads.