We ran more than an idea up the flagpole!
Featured Product from Fibox Enclosures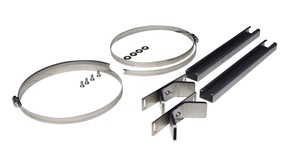 We did it again at Fibox! With the continued success and subsequent growth of the ARCA non-metallic enclosure family, we have expanded the accessories for the ARCA JICs to meet the needs of our clients.

May we present the APMK- pole mounting kit. They were designed for our clients needing a tough but easy to install mounting option in various locations.

Fitting poles of various materials, shapes, and diameters (from 2-9 inches in diameter*), the APMK is made from corrosion resistant 300 series stainless steel, and provides an easy, set it and forget it installation.

Available in corresponding ARCA JIC sizes, these kits include the following;
·2 Stainless Steel Rails
·2 Stainless Steel V-mounts
·2 Stainless Steel Adjustable bands
·4 Stainless Steel Mounting screws
·4 Stainless Steel Washers
* for diameters above nine inches please contact us at Fibox for additional options.