1.7um NIR Spectrometer $7100
Product Announcement from Filmetrics, Inc.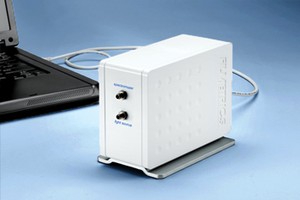 The S3-NIR is a high-performance NIR spectrometer designed for demanding general-purpose applications. State-of-the-art features include a TE-cooled 512-element InGaAs array with 500µm-tall pixels, a standard second-order filter and D-lens, a 16-bit digitizer, external triggering, and intuitive 64-bit-compatible Windows software.
USB Powered
With a CDF-compliant USB port the S3-NIR can be run on USB power alone with the TE-cooler operating down to -5°C. With non-compliant USB ports a separate external power supply (or higher detector temperatures) may be used.
Built-In Light Source
An internal 40k-hour light source is included with every S3-NIR. It operates even when the spectrometer is powered by USB and its output is under software control.
---