Avalanche Photodiodes for Red and Green Light
Featured Product from First Sensor AG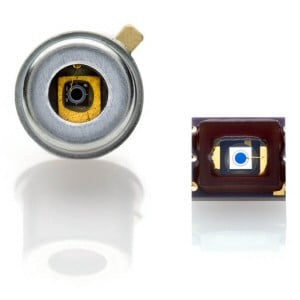 New avalanche photodiodes offer high sensitivities for red and green light
First Sensor presents the Series 8r silicon avalanche photodiodes (APDs) with high sensitivities in the red and green wavelength range. The APDs feature a flat gain curve where the internal amplification rises slowly with the applied reverse bias voltage. Therefore, the Series 8r allows for easy and accurate adjustments of high gain factors. The new photodiodes are ideal for applications which demand fast rise times and low capacitance.
Special features
Maximum quantum efficiency at 650 nm
Flat gain curve
Fast rise time
Low capacitance
Quick Links:
Read more about Avalanche photodiodes (APD)
The Series 8r provides APD chips with active areas of different sizes. The devices are available in leadless ceramic-carrier SMD packages or hermetically sealed TO housings. The very flat SMD packages can be equipped with different band-pass filters on request. Further, First Sensor offers custom avalanche photodiodes which can be adapted to specific customer requirements with respect to sensitivity, gain, speed or capacitance.
Typical applications of First Sensor new Series 8r avalanche photodiodes for red and green light include laser distance meters (LDM), laser rangefinders (LRF), high speed photometry as well as fiber optical communication.
Request a quotation for your custom application and one of our engineers will contact you directly...