Inertial MEMS sensors offer ultra-high resolution
Featured Product from First Sensor AG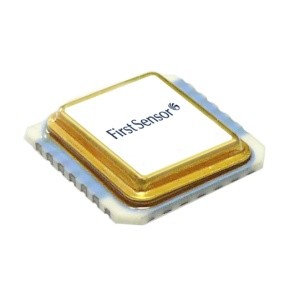 First Sensor presents a new technology platform to fabricate high precision MEMS inertial sensors for the detection of inclination, acceleration and vibration. The capacitive sensors are based on single crystal silicon and utilize the latest micromachining technology. The devices achieve large signal-to-noise ratios and excellent stability over temperature which allows them to detect smallest changes in acceleration or inclination. Due to high aspect ratio microstructures (HARMS) the sensors feature ultra-low cross axis sensitivities. Further, the patented highly flexible AIM (Air gap Insulated Microstructures) technology minimizes parasitic capacitances.
Quick Link:
Download inertial sensors overview
First Sensor dual axis inertial sensors feature superior performance characteristics and excellent price/performance ratios compared to existing devices on the market. The inclinometers offer measurement ranges of ±30 ° and achieve noise densities smaller 0.0004 °/√Hz and resolutions smaller 0.0015 ° at 10 Hz measuring frequency. First Sensor's accelerometers with measurement ranges of ±8 g and ±15 g achieve noise densities smaller 30 µg/√Hz and resolutions smaller 95 µg at 10 Hz measuring frequency. Due to the modular semiconductor technology all inertial sensors can be easily and cost-effectively customized to fit individual application requirements. The MEMS capacitive sensing element together with an ASIC for signal conditioning is integrated in a hermetically sealed SMD package ready for assembling on PCB's. Further, different evaluation boards for easy-to-use read-out of the sensor data are available.
First Sensor new high precision inclinometers and accelerometers can be used in industry, aviation as well as building and medical technology. Typical applications include geoengineering, condition monitoring, inertial navigation systems as well as robotics, alignment and leveling.
Request a quotation for your custom application and one of our engineers will contact you directly...

Play Inertial MEMS sensors offer ultra-high resolution Video