Pressure Sensors for Corrosive Liquids and Gases
Featured Product from First Sensor AG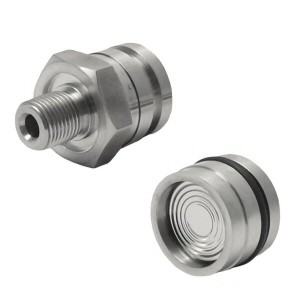 SSO and SSI stainless steel pressure sensors from First Sensor measure gage or absolute pressures in ranges from 200 mbar to 35 bar (3 to 500 psi). Fully welded, media isolated rugged stainless steel constructions allow for high media compatibility with corrosive liquids and gases. Packaging options include diaphragm versions with weld ring and housings with 1/4" NPT or G 1/8 threaded pressure ports. The sensors are based on proven piezoresistive silicon pressure sensing elements.
Quick Links:
Download SSI pressure sensor datasheet
Download SSO pressure sensor datasheet
The SSO series offers precision calibrated and temperature compensated mV output signals with excellent repeatability as well as long-term stability. A fully analog compensation technique ensures a nearly unlimited pressure resolution as well as very fast response times.
The stainless steel pressure sensors of the SSI series use precision digital signal conditioning and provide both analog 0.5…4.5 V output as well as digital I²C or alternatively SPI interfaces at the same time. These devices achieve a Total Error Band (TEB) better than ±1.5 %FSS over a temperature range of -20…+85 °C.
First Sensor stainless steel pressure sensors are the perfect fit for many OEM applications including industrial measurement and control, medical devices and instrumentation.
Request a quotation for your custom application and one of our engineers will contact you directly...