SMT Differential Low Pressure Sensors
Featured Product from First Sensor AG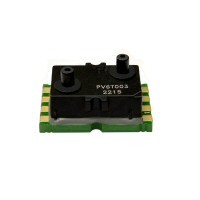 The LME differential low pressure sensors are based on thermal flow measurement of gas through a micro-flow channel integrated within the sensor chip. The innovative LME technology features superior sensitivity especially for ultra low pressures. The extremely low gas flow through the sensor ensures high immunity to dust contamination, humidity and long tubing compared to other flow-based pressure sensors. The low profile sensors of the LME series feature a total height of only 9 mm including pressure ports and allow for flexible direct manifold assemblies. Further, the SMT devices are highly versatile to fit to custom adaptors for application-specific mounting requirements.
Typical applications include medical devices, HVAC and instrumentation.
Quick Links:
Key features of the LME differential pressure sensors:
Low profile, total height of only 9 mm including pressure ports
Highly versatile to fit to application-specific mounting adaptors and manifolds
Micro-flow channel integrated within the silicon sensor chip
Superior immunity to dust contamination and condensation
Request a quotation for your custom application and one of our engineers will contact you directly...