WBI Mass flow sensors for gases
Featured Product from First Sensor AG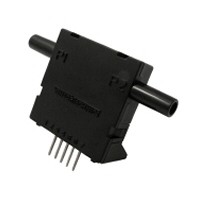 The WBI sensors with I²C bus interface offer mass flow measurement for air and gases based on a highly sensitive thermal measuring principle. The WBI series includes unidirectional as well as bidirectional flow ranges. The digital sensors achieve a very high accuracy over the complete measuring range in the positive as well as negative flow direction and feature fast response times and low power consumption.
Core competencies of First Sensor are the development and production of sensors for measuring mass and volume flow rates. Our flow rate sensors quickly record even the smallest flows with a high degree of accuracy. We offer leading solutions for medical and air conditioning technologies as well as for industrial applications.
Thermal mass flow measurement
The thermal measuring principle is used when dealing with very high sensitivity and the precise measurement of the smallest flow rates in both directions. A heating element and temperature-sensitive resistors at the heart of the sensor monitor the mass flow rate using the temperature profile in the medium. The high-precision and fast-response sensor technology is ideal e.g. for medical ventilators to detect smallest air flows.
Sensors for measuring volume flow rate
Our differential pressure sensors are suitable for measuring the volume flow rate of gases according to the differential pressure procedure. The sensors record the minimum drop in pressure on a flow element (e.g. screen, nozzle, laminar flow element) which equates to a measurement for the volume flow rate. Robust, highly accurate and extremely low differential pressure sensors reliably monitor how much of the medium flows through the line at any given time.
Areas of use for flow sensors
Flow sensors are used in respiratory devices and inhalers, oxygen concentrators, insufflators and anesthetic devices, to name but a few areas of application.
HVAC technology, fuel cells, gas analysers, low vacuum control, process control, filter monitoring, extraction hoods or gas measuring stations are further applications of these sensors.