FiberOptic Series Connectors
Featured Product from Fischer Connectors, Inc.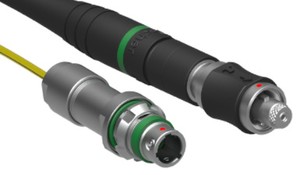 The best of butt-joint optical performance, singlemode (UPC/APC) and multimode (UPC)
Quick and easy field cleaning
IP68 (mated) / (IP67) unmated
Removable mono-block mate adapter
Fischer FiberOptic connector and cabling solutions offer the best quality and stability needed for an optical link, combined with easy mating and easy field cleaning. They will perform perfectly in harsh and extreme environments and have a high ingress protection of IP68 when mated, and IP67 unmated.
Complete fiber optic cable assemblies can also be provided for maximum performance and time saving, either directly from our factory or from one of our in-country Value Added Reseller partners.
The Fischer FiberOptic Series is available in two versions:
Fischer FiberOptic FO1, FO2 & FO4 - Robust Optical Performance
The Fischer FiberOptic Series with one (FO1), two (FO2) or four (FO4) optical channels features some major novelties. Fischer Connectors is able to offer a fiber solution that is extremely quick and easy to clean thanks to a removable mono-block mate adapter and to the possibility of rinsing the unmated connectors freely under water or in an ultrasound bath.
Fischer FiberOptic Hybrid - Robust Powered Optical Solution
A rugged hybrid connector with four channels is available for any electrical / optical combinations. The Fischer FiberOptic Series hybrid connector with two optical channels and two electrical contacts is perfectly suitable for demanding indoor and outdoor applications, where space saving is essential. The hybrid FOH 2-2 has the same key features and benefits as the Fischer FiberOptic Series FO1, FO2 and FO4.
Durability
IP68 (mated) / IP67 (unmated)
1,000 mating cycles
Performs under extreme environment
Optical Performance
Low back reflection
Singlemode (APC/UPC) & Multimode optical fibers
APC & UPC polishing
Easy field cleaning (Video)
Removable mono-block mate adapter for easy access to ferrules
Easy mating
Push-Pull connector system makes it easy to mate/unmate with one hand