Analyze Adhesion & Cohesion Strength of Coatings
Featured Product from Fischer Technology, Inc.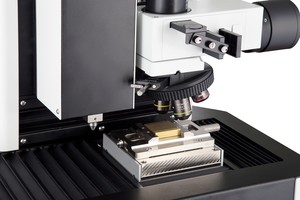 The FISCHERSCOPE® ST200 is a progressive load scratch tester for analyzing the adhesion and cohesion strength of coatings according to ASTM C1624, ISO 20502, and DIN EN 1071-3. The instrument is designed for measurements in development, quality assurance, incoming inspection and process control.
Typical fields of application:
• Hard material coatings (PVD, CVD)
• Automotive engine and drive train components
• Electroplated coatings (decorative, functional)
• Characterization of hard anodic coatings
• Materials used specifically in medical technology applications
• Electronic components, connectors, bondwires, etc.
• Plasma-applied coating systems